My passion for food has brought many new, fun and
delicious dishes to the table.
The delicious savour and aroma of our rice makes it the perfect for most meals. Rettai Kili is naturally grown, enjoyed all over the Tamilnadu and in some South Indian cities as homemaker's everyday companion. It is rich nutrition.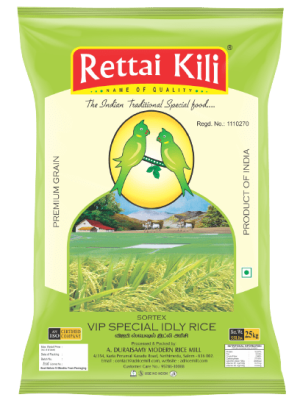 Famous in southern states, the tempting soft and spongy idlies will be in your plate with RettaiKili idly rice varieties. Rettai Kili range of idly rice are mainly used for preparing tasty, soft and fluffy idly, dosa, paniyaram and ghee roast.
Our improved classic Rettai Kili Rice bags range is Our Best Yet, with the cleanest flavor, and it will be perfect for every occasion. Rettai Kili rice Grown naturally in South India as nature intended which is healthy and wholesome and bursting with nutrition.
Rettaikili rice varieties are highly sought after by restaurants. We specialize in supplying the many chain of restaurants in Tamilnadu with locally grown and sourced rice. These slender smooth rice grains are versatile and fit for a bunch of cuisines.